PRODUCT DESCRIPTION
Polyester Acoustical Panel offers great flexibility in acoustical applications and installations, working as a sound absorption product for wall and ceiling applications. It is an environmentally friendly, polyester acoustical panel developed for building interiors for acoustics. The product works well for either retrofit or new construction applications. The Polyester Acoustical Panel is a versatile product that can either be attached directly to a ceiling deck or drywall or suspended similar to a continuous ceiling. It offers a lot of versatility in layout design and easy alignment in a grid system.
1. 100% polyester fiber made through high-tech hot press.
2. Achieve diverse density to ensure the ventilation, becoming the outstanding materials for the sound absorption and thermal insulation.
3. Within the frequency of 125-4000Hz, the absorption coefficiency can reach more than 0.9.
4. Material has a good decoration, thermal insulation, fire retardant, eco-friendly, light weight and impact resistance etc. various advantages.
5. The various colors and finish choices can satisfy all the customer's acoustic and decoration requirements.
6. The highest fire retardant grade can reach B1(GB) grade, and the best environmental protection can reach E1(GB) grade.
7. For the need of our customer, we have almost all the necessary documents for export and import, such as fire etardant report, environmental report, sound absorbing report and SGS testing report etc.
8. Specification of the polyester fiber acoustic panel
Width: 1220mm Length: 2420mm
Thickness: 3~24mm, 9 and 12mm are standard
Basic material: Polyester Fiber
Corner processing: chamfered
Density: 160-229kg/m3
Finish: More than 30 colors (Please refer to the color chart)
Fire rating: ASTM E84-15a Class A
Eco-Friendly: E0
| | |
| --- | --- |
| | 9. From the main board we can produce a lot of special customized products like the followings for example: |
Product Characteristics
Polyester sound-absorbing board is made of polyester fiber in natural or synthetic fiber. They can be used to absorb sound in most acoustical panels, ceilings and other applications. These panels are nonflammable and, when properly installed, will not shrink, crack or peel off under ambient pressure. Our acoustic panels are ideal for improving audio quality in any room. They absorb sound, allowing you to hear less echo and more music. Fabric is a kind of soft polyester fiber, which can be easily cut with scissors or art knife.
1. Our panels are made of polyester fiber and designed to absorb sound. They are ideal for controlling noise levels in meeting rooms, offices and studios. They absorb sound without affecting sound quality, helping to create a more professional work environment. Polyester sound-absorbing board is a simple and cheap way to reduce reverberation and create a better sound room. They are made of high-strength sound-absorbing fabrics that are five times stronger than cotton, which makes them duOrable and reusable.
2. Polyester fiber sound-absorbing board is a kind of light and easy to make sound-absorbing board, which is made of renewable natural materials and renewable materials. It can provide reliable sound absorption effect with little air flow. The board is widely used in various occasions, including indoor partitions and ceilings, backstage and control rooms, mechanical or electrical equipment rooms, recording rooms, auditoriums and theatres.
3. Polyester fiber sound-absorbing board is a cost-effective noise control solution. They are light, easy to install and require little maintenance. The panel is made of a special fabric called polyester, which consists of millions of tiny plastic fibers. When the sound wave strikes the panel, the energy of the sound wave is converted into heat energy through the friction between the air flowing through the panel surface and the plastic fiber. Polyester sound-absorbing panels can be used on walls to reduce echo and reverberation time and provide significantly higher sound-absorbing effects than fiberglass panels of similar sizes.
4. Sound absorption board is a kind of great wall covering, which can not only reduce noise, but also help to absorb sound. It can be used in the office or at home and will help provide privacy while allowing comprehensive listening. The acoustic fabric speaker is made of polyester fiber, and the panel feels soft and comfortable. This kind of fabric has excellent acoustic performance due to its large air volume, low density and good elasticity. It is flame retardant and not waterproof.
5. Polyester fiber sound-absorbing board is a kind of light and flexible mineral wool, which can be easily formed into irregular surface areas. Its fireproof characteristics make it an ideal insulating material for areas exposed to high temperature and fire hazards. If properly installed, the acoustic performance of such panels will reduce the ambient sound level and reverberation in the enclosure. In order to ensure that your project achieves its acoustic goals, you should remember some things before using this product to build walls, ceilings, or other structures.
CORE SWATCH
In order to satisfied with the different kinds of requirements from the project, we have wide ranges of colorful choice for you to choose from.

TEST REPORT
ACOUSTIC ABSORPTION COEFFICIENT TEST REPORT ↓
ENVIRONMENTAL FRIENDLY TEST REPORT ↓
INSTALLATION METHOD
PRODUCT DATA SHEET WITH INSTALLATION INSTRUCTION ↓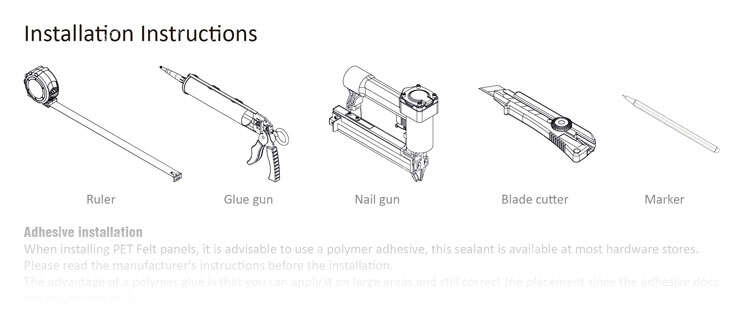 FAQ
Q1: What about the lead time?
Usually 9mm and 12mm thickness we have stock, fire retardant treatment needs about 3~5 days, special production requirements need about 3 days.
Q2: Do you have any MOQ limit for acoustic panel order?
Standard thickness 9mm and 12mm do not have MOQ, other thickness will require certain minimum order quantity, please inform your requirement and we will check for you.
Q3: Are you a trading company or a factory?
We produce customzed wooden acoustic panel, operable wall and silent pod only, others are trading, the important things is if we could provide you the same competitive price, quality and good service.
Q4: Sample policy
Free of charge for sample and courier: Only when specific product and project details are available, and drawings that we can analyse for the customized product, free of change for the first time, A4 size sample.
Free of charge for sample: No specific product and project in hands, only interested in having physical samples in hands, we can provide standard sample free of charge, customer should bear the freight cost, customized product will charge extra as well.
CONTACT US
SEND INQUIRY AND REQUEST FOR MORE PRODUCT DETAILS! →