PRODUCT DESCRIPTION
PET acoustic felt is a kind of soft material instead of heat pressure hard panel, 100% polyester fiber, this flexible felt is easy to be applied onto any surface, only glue or gun nailing is alright. It's natural and harmless to human body, it can reduce the echo and noise inside the hall to a certain extent, making the space look more soft and comfortable, and there are various colors available for choosing from.
The available thickness is 1mm (280g), 2mm (400g), 3mm (600g), 4mm (800g), 5mm (1000g), width is 1000mm.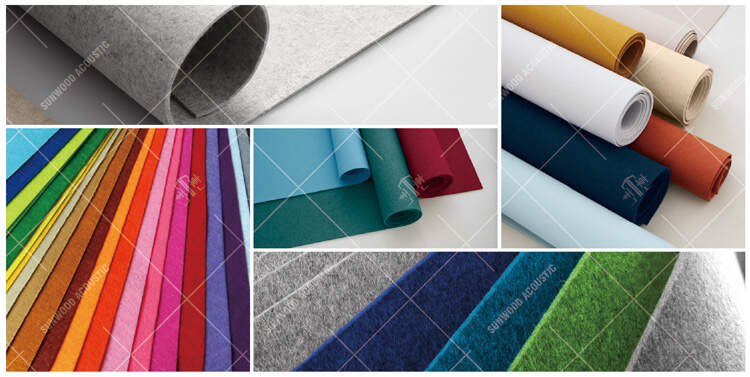 Product Characteristics
Acoustic felt is a kind of closed hole plate sound-absorbing material, which provides high absorption in the medium frequency range. The NRC at 100Hz is 0.83, which is the most common resonance range in the room. It is designed for some types of mass - loaded ethylene, usually facing the back of this material to maximize noise control.
1. Sound absorbing felt is one of the most important materials in the field of sound absorption, which has good sound insulation, damping and color characteristics. Sound absorbing felt is a certain form made of special material felt and fabric through processing and sewing. Its basic structure consists of three layers: the upper layer is used to support sound waves, the middle layer has good bonding strength, and the lower layer has excellent seismic strength. The combination of these three layers can effectively prevent noise from entering the ear.
2. Sound insulation blanket is a low-density high-grade blanket, which is suitable for wall and ceiling sound absorption to improve the comfort of the space. Sound absorbing felt is a porous product. Its function is to absorb sound waves and disperse them in the surface area of the product. It can be used as a substitute for the sound-absorbing ceiling, or add additional sound insulation characteristics to the existing ceiling installation.
3. This kind of sound-absorbing felt is a cost-effective product, which can improve the overall acoustic performance of your room. Although it is not as exaggerated as adding sound-absorbing products, this cost-effective solution will be much better than using only ceramic tiles or nothing. The sound absorption board is designed to absorb sound waves, reduce reverberation, and make your voice easier to be heard in the whole room. It also helps to fade the echo when speaking or singing. Sound absorbing foam has various thicknesses, depending on what effect you want. You may want to compare the thickness of the sound-absorbing foam before you buy it.
4. Pet sound-absorbing felt is a 100% closed cell foam, which can be used to reduce the overall sound level of any room. It is an economical acoustic substitute for other sound-absorbing materials and can be used in residential and commercial applications. Pet has excellent heat insulation performance and is suitable for high and low temperature conditions. This material does not absorb moisture or odor and is a safe choice for kitchens and bathrooms. Pet sound-absorbing felt is odorless and flame-retardant, complying with various wood contact standards, UL certification and OSHA standards.
5. Acoustic felt is a kind of special noise reduction material, which is used in some high-end household and car audio systems to suppress vibration and prevent or reduce noise. The felt is usually made into the shape of a thin cushion and installed under the speaker driver or on the inner wall of the speaker housing. A thin layer of sound-absorbing foam can also achieve this function, but felt can provide better sound quality at an acceptable price. Our 2-inch-thick board sound-absorbing foam uses the same sound-absorbing material as felt.
CORE SWATCH
In order to satisfied with the different kinds of requirements from the project, we have wide ranges of colorful choice for you to choose from.

TEST REPORT
ACOUSTIC ABSORPTION COEFFICIENT TEST REPORT ↓
ENVIRONMENTAL FRIENDLY TEST REPORT ↓
INSTALLATION METHOD
PRODUCT DATA SHEET WITH INSTALLATION INSTRUCTION ↓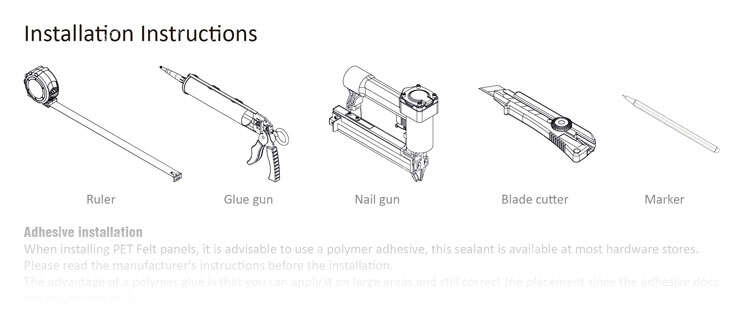 FAQ
Q1: What about the lead time?
Usually 9mm and 12mm thickness we have stock, fire retardant treatment needs about 3~5 days, special production requirements need about 3 days.
Q2: Do you have any MOQ limit for acoustic panel order?
Standard thickness 9mm and 12mm do not have MOQ, other thickness will require certain minimum order quantity, please inform your requirement and we will check for you.
Q3: Are you a trading company or a factory?
We produce customzed wooden acoustic panel, operable wall and silent pod only, others are trading, the important things is if we could provide you the same competitive price, quality and good service.
Q4: Sample policy
Free of charge for sample and courier: Only when specific product and project details are available, and drawings that we can analyse for the customized product, free of change for the first time, A4 size sample.
Free of charge for sample: No specific product and project in hands, only interested in having physical samples in hands, we can provide standard sample free of charge, customer should bear the freight cost, customized product will charge extra as well.
CONTACT US
SEND INQUIRY AND REQUEST FOR MORE PRODUCT DETAILS! →