PRODUCT DESCRIPTION
Curved PET acoustic panel is often been used as decorative divider during the interior design, it can be processed by CNC machine according to the customized design, it has not just a good appearance for the interior design, but also serve as acoustic material, elegant and fashion, followings are some standard patterns.
| | | | |
| --- | --- | --- | --- |
| | | | |
| | | | |
| | | | |
| | | | |
Product Characteristics
Carved sound-absorbing board is designed to reduce the sound transmitted from one environment to another and provide a unified and controllable space. They are ideal for acoustic music studios, recording studios, etc. Each board is hand carved by skilled carpenters, so no two boards are exactly the same.
1. Carved pet sound-absorbing board is made of 100% renewable resources and has the function of sound absorption and sound insulation. It can meet customers' needs for warm and natural colors. It includes a powerful structure that is not easy to deform and will not be damaged no matter how long you put it. These carved pet sound-absorbing boards are a good way to add features to the room. They have a soft, smooth texture that provides excellent sound absorption. These panels add a delicate air to any space and are an important supplement to families, offices or any public buildings.
2. Carved sound-absorbing board is a specially designed sound-absorbing board, which is acoustically transparent and visually attractive. The carved sound absorption board has a three-dimensional relief, which can be customized according to your project needs. Our process allows us to carve sound-absorbing panels made of paper backed aluminum foil, foam or glass fiber composites by hand and CNC machines.
3. The carved pet sound-absorbing board has the functions of sound insulation and decoration. High quality aluminum alloy structure, high strength and stable temperature. The frame is covered with sound-absorbing materials to ensure good sound insulation performance. High strength aluminum alloy frame has excellent mechanical impact resistance and rigidity, which can effectively prevent overload or damage caused by collision and aviation.
4. The sound absorption board absorbs sound waves and controls them in a specific space to create a more comfortable environment. Carved pet sound-absorbing panels come in many different sizes, and each panel provides coverage for a specific area of your home or office. Sound absorbing panels help control sound quality throughout the office, living room, and bedroom, as well as around entertainment centers such as study or home theater rooms. As a synonym of high-quality structure, carved pet series is designed to meet those who have special requirements for the acoustic performance of products.
5. The sound insulation board has a wooden appearance, giving people a natural feeling, and can be well integrated with any decoration. This panel is very suitable for use in home cinemas or offices. It is made of 100% pet, which is a clean and recycled resin in the fossil fuel industry, making it almost free from the weather, impact resistant and non allergic. Create a more intimate atmosphere by hanging our pet carved sound-absorbing board. These panels have a unique hand-painted design that visually enhances your room while providing the high-quality sound absorption you need to create the best listening experience.
6. Crystal clear high-quality sound is one of the best ways to make your home full of vitality and vigor. Carved pet sound-absorbing board can effectively shape or control the sound by changing the acoustic effect of the room, and reflect the sound wave to your living area. Carved pet sound-absorbing board can be used for commercial and residential purposes to reduce unnecessary noise, such as popcorn popping in the microwave oven, or loud dog barking.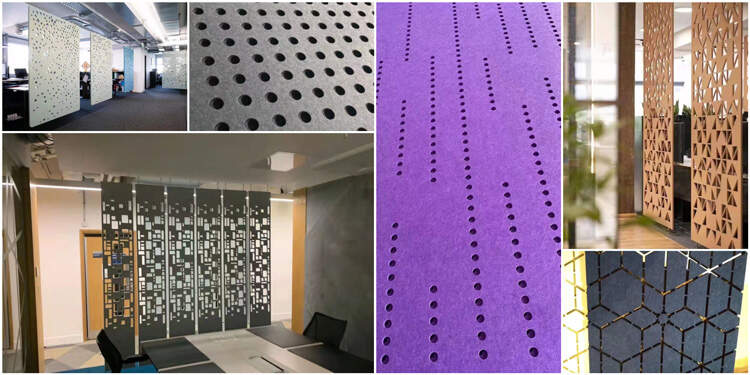 CORE SWATCH
In order to satisfied with the different kinds of requirements from the project, we have wide ranges of colorful choice for you to choose from.

TEST REPORT
ACOUSTIC ABSORPTION COEFFICIENT TEST REPORT ↓
ENVIRONMENTAL FRIENDLY TEST REPORT ↓
INSTALLATION METHOD
PRODUCT DATA SHEET WITH INSTALLATION INSTRUCTION ↓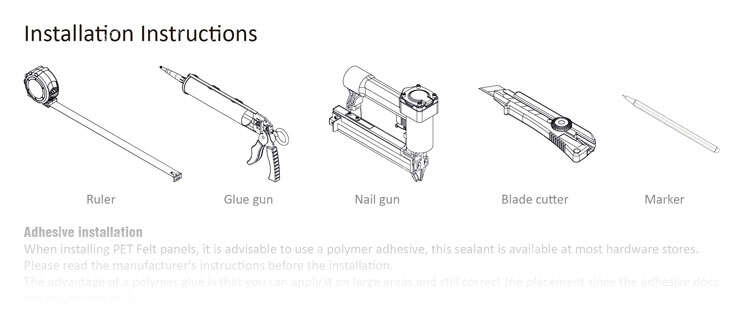 FAQ
Q1: What about the lead time?
Usually 9mm and 12mm thickness we have stock, fire retardant treatment needs about 3~5 days, special production requirements need about 3 days.
Q2: Do you have any MOQ limit for acoustic panel order?
Standard thickness 9mm and 12mm do not have MOQ, other thickness will require certain minimum order quantity, please inform your requirement and we will check for you.
Q3: Are you a trading company or a factory?
We produce customzed wooden acoustic panel, operable wall and silent pod only, others are trading, the important things is if we could provide you the same competitive price, quality and good service.
Q4: Sample policy
Free of charge for sample and courier: Only when specific product and project details are available, and drawings that we can analyse for the customized product, free of change for the first time, A4 size sample.
Free of charge for sample: No specific product and project in hands, only interested in having physical samples in hands, we can provide standard sample free of charge, customer should bear the freight cost, customized product will charge extra as well.
CONTACT US
SEND INQUIRY AND REQUEST FOR MORE PRODUCT DETAILS! →