PRODUCT DESCRIPTION
3D PET acoustic panel is a modular that processed by the mold to create different special designs, it's light in weight, simple to install and has good acoustic performance. Nowadays, its elegant interior appearance is becoming more and more popular during the modern design. Furthermore, the panel is made of 100% polyester fiber, without any harmful materials to human body, completely eco-friendly, recycable.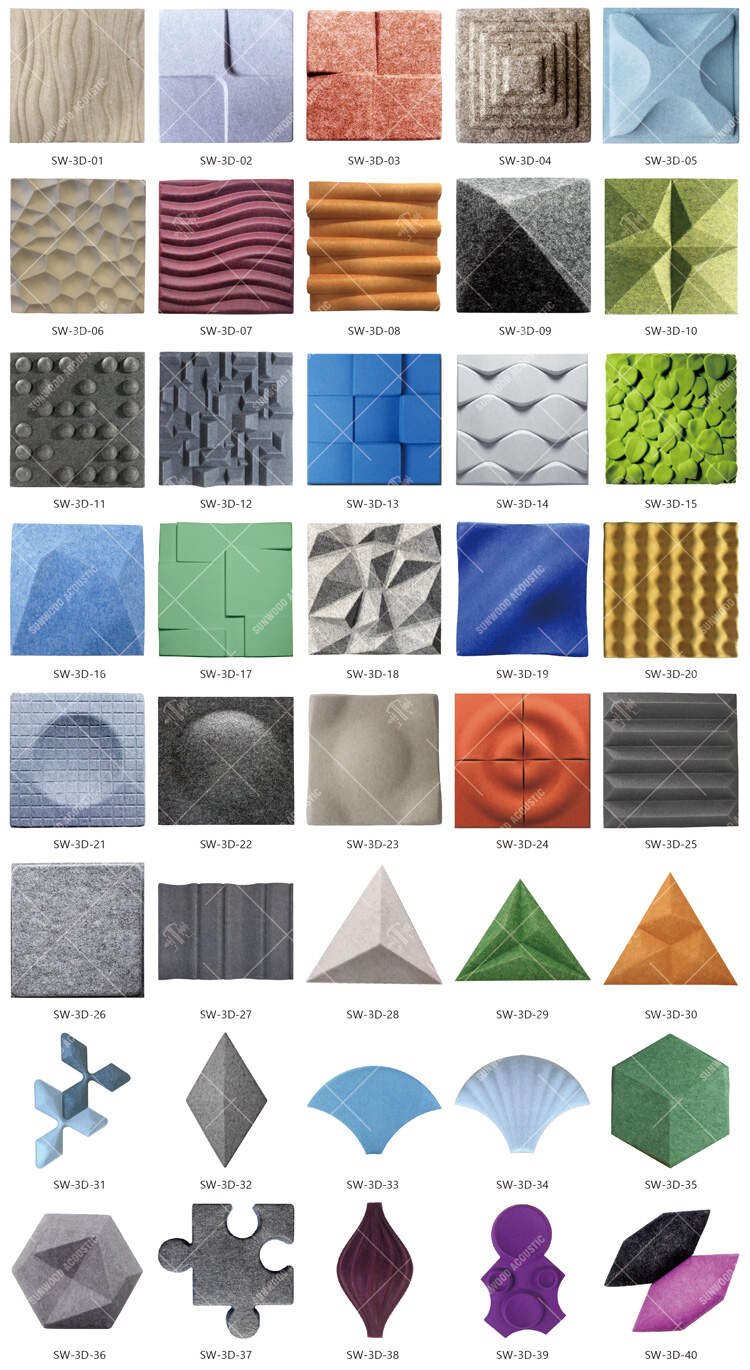 Product Characteristics
3D PET sound-absorbing board is a high-quality wallpaper like material, which is covered with a thin layer of sound-absorbing particles. The material is easy to install and hides sound-absorbing particles. It can be installed directly on the wall without additional installation or framework. 3D sound absorption board can be used in any space that needs sound absorption, or any person with creative thinking. These panels are light and easy to install. They can also be reused and recycled many times to ensure that our planet does not run out of this material. High quality PET material with excellent sound absorption effect. Designed for long-term use, it allows you to install it once and then reuse it many times.
1. Sound absorption board is a good way to improve room sound quality and block unnecessary noise. Our 3D sound-absorbing board is made of a unique wood fiber mixture of pet, which is light in weight but strong and durable. It has an easy to install design and is very suitable for use in recording studios, home theaters and conference rooms.
2. 3D PET sound-absorbing board is the perfect choice for home and office use. It will effectively improve the acoustic performance of your room without making the place look dull. Sound absorbing materials help to absorb noise and create a pleasant auditory experience.
3. Our 3D PET sound absorption board is a simple and effective way to reduce unnecessary noise. It is very effective in reducing airborne and impact noise and can be used for walls and partitions in residential and commercial spaces. The sound absorption board is made of pre impregnated (cross-linked) polyester film foam, which produces transparent acoustic materials when manufactured.
4. This 3D PET sound absorption board is a cost-effective solution, which can reduce reverberation and echo in the hall, improve language clarity, prevent reverberation and reduce the music experience. With its complete bass performance and transparent treble, this panel provides complete sound, deep bass and clear treble.
5. The sound insulation wall is an important part of the sound insulation panel, which is used to control and reduce noise. The most effective way to control sound is through absorption. When the sound wave contacts the surface, the noise level is reduced by reducing the intensity of the sound wave. You can do this by using 3D PET sound-absorbing panels, which use special sound-absorbing materials to absorb the sound before it reaches the destination. This makes it an ideal choice for recording studios, which need clear sound quality to produce high-quality recordings. This advanced structure can also keep the room cool in summer and save energy costs.
6. 3d pet sound absorption board is a cost-effective method to solve the acoustic problems in recording studios, religious places and other fields. They are light and easy to hang with the included plastic hooks. This simple installation method can reduce the need for additional frames, which can lead to time and cost problems when working with contractors.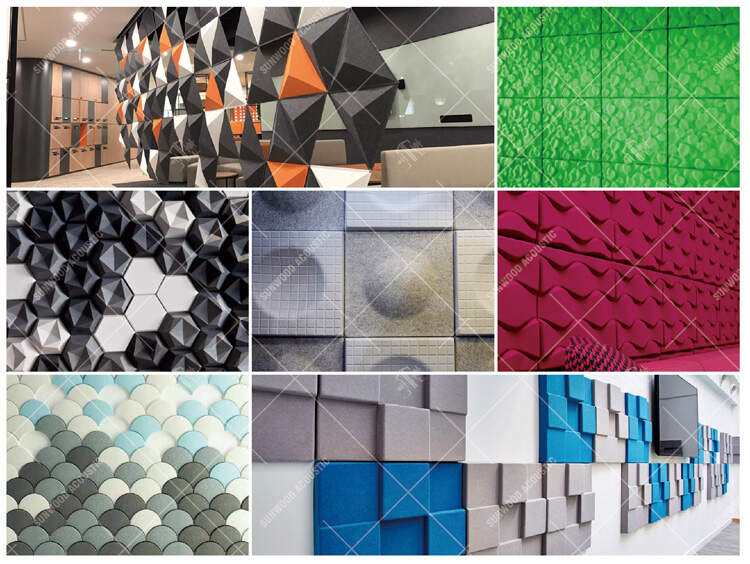 CORE SWATCH
In order to satisfied with the different kinds of requirements from the project, we have wide ranges of colorful choice for you to choose from.

TEST REPORT
ACOUSTIC ABSORPTION COEFFICIENT TEST REPORT ↓
ENVIRONMENTAL FRIENDLY TEST REPORT ↓
INSTALLATION METHOD
PRODUCT DATA SHEET WITH INSTALLATION INSTRUCTION ↓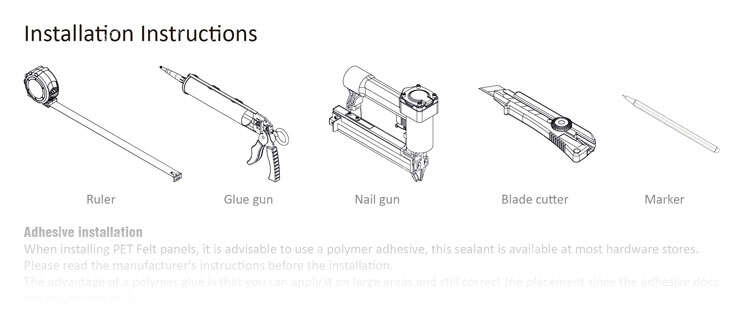 FAQ
Q1: What about the lead time?
Usually 9mm and 12mm thickness we have stock, fire retardant treatment needs about 3~5 days, special production requirements need about 3 days.
Q2: Do you have any MOQ limit for acoustic panel order?
Standard thickness 9mm and 12mm do not have MOQ, other thickness will require certain minimum order quantity, please inform your requirement and we will check for you.
Q3: Are you a trading company or a factory?
We produce customzed wooden acoustic panel, operable wall and silent pod only, others are trading, the important things is if we could provide you the same competitive price, quality and good service.
Q4: Sample policy
Free of charge for sample and courier: Only when specific product and project details are available, and drawings that we can analyse for the customized product, free of change for the first time, A4 size sample.
Free of charge for sample: No specific product and project in hands, only interested in having physical samples in hands, we can provide standard sample free of charge, customer should bear the freight cost, customized product will charge extra as well.
CONTACT US
SEND INQUIRY AND REQUEST FOR MORE PRODUCT DETAILS! →