PRODUCT DESCRIPTION
PET acoustic panel is easy to be cut in different kinds of shape, with the colorful choices and customized shapes we can build up many kinds of special design for the decoration, unlike the traditional wooden acoustic panel, PET is more fashion, flexible and eco in the modern buildings, and has been widely used all over the world.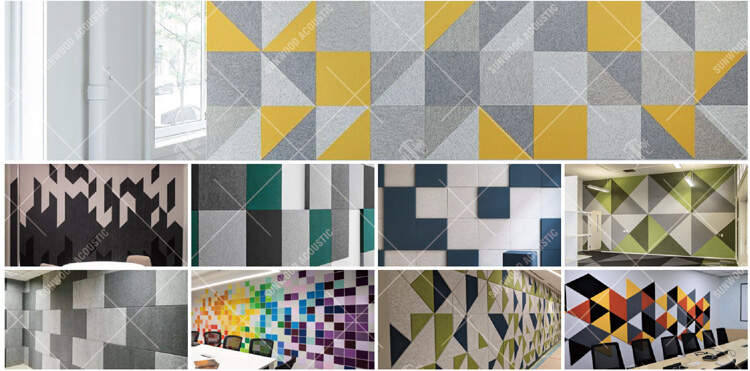 Product Characteristics
Our CNC cut pet sound-absorbing board is designed for sound absorption and diffusion control room resonance. They are excellent products for any live performance, studio recording and home theater applications that require excellent sound quality. In addition to using our sound-absorbing panels to improve the audio performance of your studio equipment, you can also use sound-absorbing panels in other rooms in your home or workplace, such as bedroom, study or conference room, to achieve additional absorption and attenuation.
1. CNC cut pet acoustical panels are a versatile, lightweight and cost competitive wall system that can be used in many different applications. The panel is coated with sound-absorbing materials, which can reduce the noise of general traffic and machinery, such as copiers, vacuum cleaners, mechanical equipment, etc. Each panel consists of an aluminum frame and a layer of sound-absorbing material, which helps reduce reverberation time and overall noise levels.
2. Cut according to the exact dimensions required for the project. Our CNC cut pet sound-absorbing board is a cost-effective substitute for customized sound-absorbing boards. It is made of 0.093 thick hard wall flame retardant PETG plastic, and there is an aluminum back plate on the back of the panel. It has a textured surface that can be used for artwork or labels. Using our CNC cutting pet sound-absorbing board, the installation is simple and clear. This innovative and easy to install technology can immediately create acoustic effects in your space to help you achieve design aesthetics. Made from recycled materials, it is a good choice to make you feel good when you make sustainable choices for the environment.
3. Our CNC cut pet sound-absorbing board is cost-effective, light and easy to install: it is the perfect choice for sound attenuation in recording studio or home theater. They are also ideal for adding additional sound insulation to your walls, floors, and ceilings to prevent noise. Use this high-tech metal backplane material as part of a complete sound absorption panel solution, or separately, to maximize resonance control.
4. Use this multi-functional product to create a beautiful and transparent sound-absorbing board. It can be personalized by laser engraving, screen printing or wood firing. Use pet to create truly unique art installations. You can use it to make life size art.
5. Our soundproof panel is the best choice for music studios, home theaters and even commercial places. They reduce the echo and make the room sound more professional, clear and natural. These panels effectively isolate sound, especially in open floor plans or work areas where sound bounces around. These panels are easy to hang on the wall or ceiling and are a quick solution to any room acoustic problem.
6. Our NC cutting pet sound-absorbing board is an innovative product, which combines the advantages of plane and sound-absorbing baffle. Its unique grid structure can provide sound absorption and diffusion, making it an ideal choice for modular baffles and floating walls. The irregularity of its texture breaks the standing wave and reduces the unstable echo, while its high density leads to deep bass absorption.
CORE SWATCH
In order to satisfied with the different kinds of requirements from the project, we have wide ranges of colorful choice for you to choose from.

TEST REPORT
ACOUSTIC ABSORPTION COEFFICIENT TEST REPORT ↓
ENVIRONMENTAL FRIENDLY TEST REPORT ↓
INSTALLATION METHOD
PRODUCT DATA SHEET WITH INSTALLATION INSTRUCTION ↓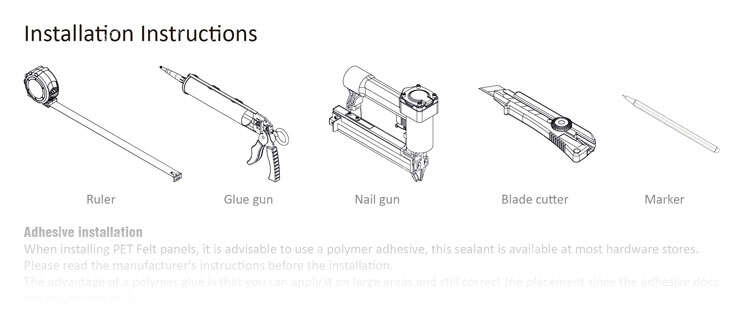 FAQ
Q1: What about the lead time?
Usually 9mm and 12mm thickness we have stock, fire retardant treatment needs about 3~5 days, special production requirements need about 3 days.
Q2: Do you have any MOQ limit for acoustic panel order?
Standard thickness 9mm and 12mm do not have MOQ, other thickness will require certain minimum order quantity, please inform your requirement and we will check for you.
Q3: Are you a trading company or a factory?
We produce customzed wooden acoustic panel, operable wall and silent pod only, others are trading, the important things is if we could provide you the same competitive price, quality and good service.
Q4: Sample policy
Free of charge for sample and courier: Only when specific product and project details are available, and drawings that we can analyse for the customized product, free of change for the first time, A4 size sample.
Free of charge for sample: No specific product and project in hands, only interested in having physical samples in hands, we can provide standard sample free of charge, customer should bear the freight cost, customized product will charge extra as well.
CONTACT US
SEND INQUIRY AND REQUEST FOR MORE PRODUCT DETAILS! →