PRODUCT DESCRIPTION
Baffle ceiling has long been recognised as a ceiling system that can transform the spatial design, atmohphere and acoustic performance of a room space. Unlike the traditional fiber glass baffle, it's made of 100% recyclable materials and harmless to human body, and at the same time significantly reduce the acoustic energy that reverberates in the ceiling void, it is a famous materials within office, auditorium, concert hall or any space where airbone sound needs to be controlled.
Thanks to the flexibility of the PET material, it can be shaped into many kinds of special design, much more flexibile than fiber glass baffle, although the acoustic performance is weaker but the cost is also relatively more economic.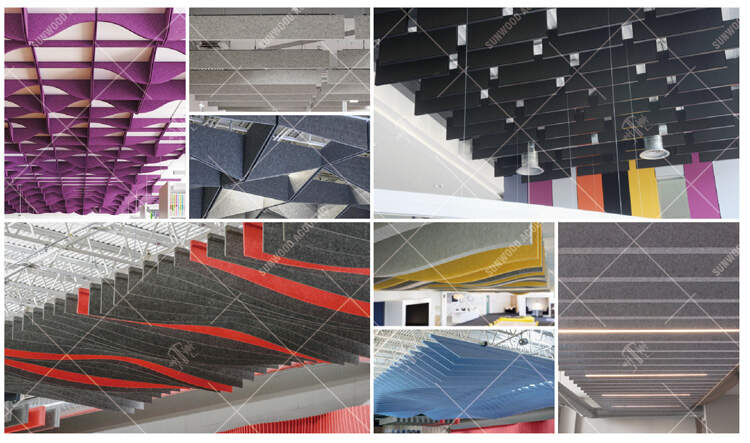 Product Characteristics
Pet soundproof panel is a high-quality component of your home studio, home theater or listening room. It is a lightweight and cost-effective method, which can suppress unwanted sound reflection in all corners of the room and control the frequency. Plastic sound-absorbing panels are used for sound insulation and control. Pet soundproof panels can be installed on walls and ceilings or between floors to reduce echo and reverberation, as well as noise from low-frequency sources such as subwoofers and ducts. You can also choose the frame under the carpet to match with the floor and decorations.
1. This pet sound baffle is a cost-effective sound insulation solution that provides a clean, professional appearance without maintenance. It has repeated impact resistance, excellent rigidity and dimensional stability under wet conditions. The U-shaped baffle is made of smooth natural ABS with pre cut mounting holes to reduce installation time.
2. Acoustic pet baffle is necessary for pet owners. Its design makes the soundproof foam blanket quieter and more durable, and it is also waterproof to protect your floors and walls from potential pet damage. Pet soundproof board can effectively reduce the noise level of soundproof foam blanket above 5dba. This internal attenuator will turn the sound from your sound absorption board into a frequency that has little impact on the people around you.
3. Our pet sound-absorbing baffle is an important supplement to any home or work space. These baffles are made of 100% post consumer recycled PET plastic, which is environmentally friendly and durable. Each product has been tested for strength, stability, durability and quality. Diversified design gives you a variety of placement options. They are ideal for garages, basements, attics, or anywhere with a noise echo.
4. Our pet soundproof baffle is the first soundproof product that can be used on all surfaces and is 100% permanent. It can be applied to existing painted walls, new drywall, or as a temporary fixture for existing carpets until you are ready to remove it. This durable material can stand the test after reuse and will not damage your project in any way.
5. Pet sound insulation baffle is a perfect sound insulation baffle suitable for any place. This product is made of high-quality pet material to help control noise and reverberation. It is easy to install and can be used in a variety of applications, including bathrooms, offices, classrooms, etc. The design of pet sound insulation panel is to minimize the sound level of desktop or table. It is characterized by a double-sided structure composed of silencing pet foam and medium density fiberboard, forming a thick and good insulation barrier between your printer and the external noise of your home or office. The long edges are not processed to help reduce any visual interference. Pet baffles are usually used to reduce reverberation, acoustics and sound energy transmission in performance venues. They enhance the low frequency response, thereby improving the performance of the bass transducer. The product is durable and has a variety of surface treatments to choose from. It is suitable for almost any installation.
CORE SWATCH
In order to satisfied with the different kinds of requirements from the project, we have wide ranges of colorful choice for you to choose from.

TEST REPORT
ACOUSTIC ABSORPTION COEFFICIENT TEST REPORT ↓
ENVIRONMENTAL FRIENDLY TEST REPORT ↓
INSTALLATION METHOD
PRODUCT DATA SHEET WITH INSTALLATION INSTRUCTION ↓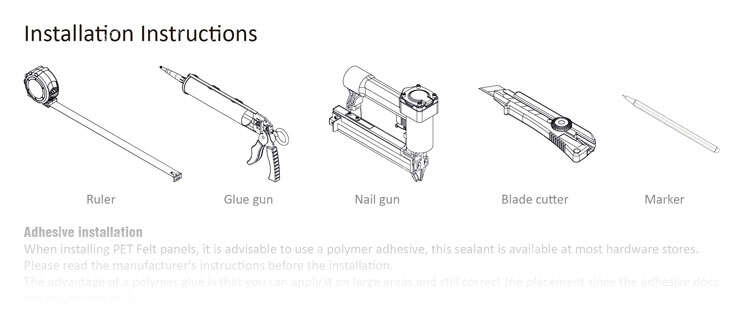 FAQ
Q1: What about the lead time?
Usually 9mm and 12mm thickness we have stock, fire retardant treatment needs about 3~5 days, special production requirements need about 3 days.
Q2: Do you have any MOQ limit for acoustic panel order?
Standard thickness 9mm and 12mm do not have MOQ, other thickness will require certain minimum order quantity, please inform your requirement and we will check for you.
Q3: Are you a trading company or a factory?
We produce customzed wooden acoustic panel, operable wall and silent pod only, others are trading, the important things is if we could provide you the same competitive price, quality and good service.
Q4: Sample policy
Free of charge for sample and courier: Only when specific product and project details are available, and drawings that we can analyse for the customized product, free of change for the first time, A4 size sample.
Free of charge for sample: No specific product and project in hands, only interested in having physical samples in hands, we can provide standard sample free of charge, customer should bear the freight cost, customized product will charge extra as well.
CONTACT US
SEND INQUIRY AND REQUEST FOR MORE PRODUCT DETAILS! →