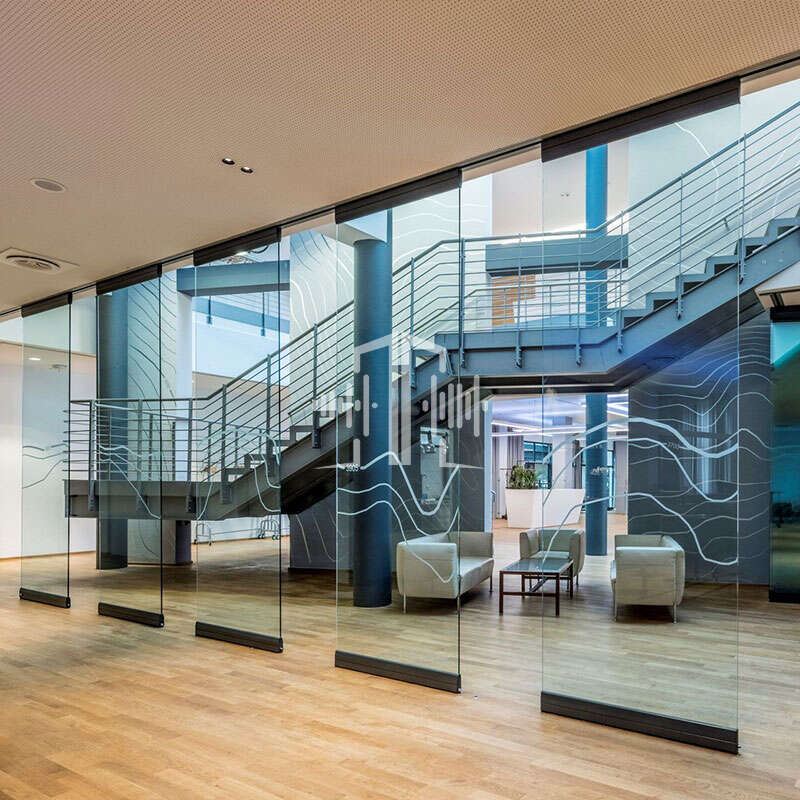 Frameless glass movable partitions are a type of interior partition system that uses clear glass to create a functional and elegant space division solution in commercial, industrial and residential buildings. Unlike traditional partition systems, frameless glass partitions do not require any bulky framing or support structures, keeping the design unobtrusive and clean.
The panels are made of tempered glass or laminated glass with a thickness ranging from 10mm to 12mm, depending on the height of the partition wall. Because of its durability, glass is a reliable and safe product that can withstand wear and tear, impacts or even weather conditions.
The partitions slide effortlessly on an overhead track and can be stacked or parked, so that the space can be adjusted as needed. They can be designed to fit any layout, with various configurations available such as straight, angled, or curved.
In addition to the contemporary aesthetic appeal of frameless glass partitions, they allow natural light to flow through the space, creating an open and welcoming ambiance, while still providing privacy and sound insulation.
Overall, frameless glass movable partitions provide a versatile, practical and modern solution for your space division needs.
Product features:
1. frameless glass operable partition system is very suitable for large open spaces. In these spaces, it is very important to be able to divide the space without losing light and vision from one side to the other. Glass partitions provide flexibility for office design, training rooms, atriums, reception areas, and open workstations.
2. frameless glass operable partitions can help minimize energy consumption by reducing the heat generated. Glass is very safe and suitable for hospitals and schools. The glass operable partition also provides great security because it does not allow people outside to see things on the other side of the glass.
3. the frameless glass operable partition has a unique moisture-proof appearance, which is most suitable for your home taste. In modern entrance passage terminology, these partitions are considered to be doorways between rooms. It is noted that the frameless glass operable partition has some unique functions, such as light weight and easy installation. Because these partitions are made of glass, they require much less space than ordinary door frames.
4. frameless glass operable partition is an ideal solution for various applications. Frameless glass operable partitions are designed for use with framed walls and can be customized in size and finish to suit any application. Frameless glass operable partitions provide privacy, sound control and thermal efficiency in any space, while allowing easy separation of areas with minimal visual impact and allowing maximum transparency between spaces.
5. frameless glass operable partition is a beautiful way to divide room areas without blocking vision or light. The operable partition allows fresh air and natural light to flow through the space, creating an open and ventilated atmosphere, which is very suitable for your home or office. The operable partition is a partition having an opening that can be opened and closed by a mechanism such as a door. It provides some of the benefits of the interior wall and the ability to open it from both sides, or to completely remove a part. Frameless glass operable partitions provide privacy and sound insulation, and help to present an elegant appearance in any space.
6. use frameless glass to create an amazing and practical partition. Our partition can turn your open office into a private workspace, or create a collaborative work environment so that employees can see each other while maintaining their own space privacy. These glass partitions are available in a variety of sizes and styles, suitable for almost any application, and will create an influential presence in your workspace. This operable glass partition provides a unique look and feel for the space without interfering with the view or increasing the volume. With this option, you can have private discussions at home or use it in a business environment to provide more work space for employees without dividing your desks by partitions.