L-POD-E
Sunwood L-Pod is the soundproof meeting pod for 1~4 people
This multifunctional working space combines excellent and eco-friendly acoustic materials with a spacious layout for 4 pax, making it ideal for meeting face-to-face, online, and everything in between.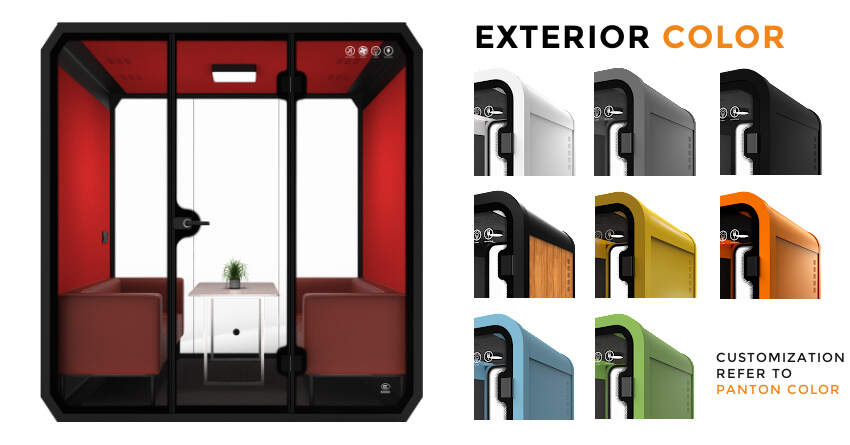 The soundproof meeting pod for 1~4 people
One person

Soundproof office phone booth

Speech privacy and perfect acoustics

Automatic ventilation

Useful and practical furniture layouts
Perfect meeting space for a smaller group
The efficient meeting space is optimal for different kinds of meeting needs such as brainstorming, face-to-face, comference and much more.
Ideal for both group work or resting pod
The sunwood L pod is not only suitable for meetings, it can turn into resting pod if needed, with suitable furniture such as bed and sofa option suits best for your organization's needs.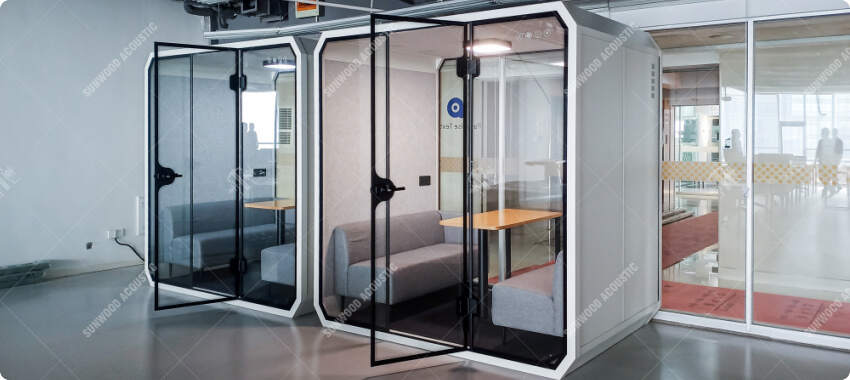 Dimensions
Exterior size
1610 mm x 2188 mm x 2288mm (D x W x H)
63.4 in x 86.1 in x 90.1 in (D x W x H)
– With trolley system extra 10 cm / 3.9 in in height
Interior size
1500 mm x 2056 mm x 2156 mm (D x W x H)
59.1 in x 80.9 in x 84.9 in (D x W x H)
Weight
550 kg
1213 lb

Exterior
Exterior panels
Painted aluminum honeycomb panel
Glass
10mm tempered glass
Sound control laminated glass (4 mm + 4 mm / 0.16 in + 0.16 in)
Double glazed system (5mm + 12A + 5mm / 0.87 in)
Frame
Heavy duty aluminum structure with powder coat, can withstand direct sunlight, scratch resistant
Door
A few door handle options – including digital lock, glass door can be framless and framed door.


Interior
Interior walls and roof
Double layers of aluminum honeycomb sandwich sound insulation structure, recycled acoustic foam and acoustic felt, sound insulation matt
Floor
An anti-static and stain resistant low loop pile carpet for interior floor
Table
HPL on plywood with PVC banding, sufficiant for any size of laptop
Furniture layout
Different furniture layouts with different seating, table and bed options


A multi-function meeting pod
- Speech privacy assured
- Optimized work lighting and airflow
- Useful and practical furniture layouts
- Flexible for further modification
Optimized office phone booth
There are variety of colors to choose for the exterior appearance and for the interior acoustic felt. Speech privacy, work lighting, airflow and power outlets are optimized for the best meeting booth experience. Also we are welcome any special request, without needing any MOQ, flexible to the customization, followings are some of the demonstration:
- Digital Door Lock
(Watch video from Youtube)
- Motion Sensor
(Watch video from Youtube)
- Trolley System
(Watch video from Youtube)
- Smart Glass System
(Watch video from Youtube)
- Display brackets
- For more special request welcome to
contact us
directly or refer to our
product catalogue
.


Certificates
Acoustic
Speech level reduction
30dB (measured according to ASTM E596 - 1996 & ASTM E413 -2016)
Eco-Friendly
Parameters meet all the indicators, qualified emission
Fire Rating
Class A (accordance with ASTM E84-15a)
Fire classification: B-s1, d0 (accordance with EN 13501-1:2018)


Lighting and ventilation
Lighting
LED light: 4000 K and 300 lux
Total airflow
57.8 l/s, 121 CFM (205.7 m³/h)


Power
Power consumption
29 W while in use (Standard configuration)
LED light: 14 W
Fans in total: 15 W
0.8 W in standby mode
Input: 100–240 VAC, 8.0 A, 50–60 Hz
Socket outlets
Power socket (According to the country)
Optional: LAN port (CAT-6)
Output values
Output VAC (power socket): 100–240 VAC, 6.6 A, 50–60 Hz
Output USB (TUF) charging:
Maximum combined output of 5 A at 5 VDC (25 W)


FAQ
Time: What is the production time?
The production time for the silent pod is about 10~14 days, if there's any further special requirements, there would be about 3~4 weeks based on the specific details.
Packing: How will the product be packed?
The acoustic pods will be packed in a plywood box for exportation and will be shipped unassembled.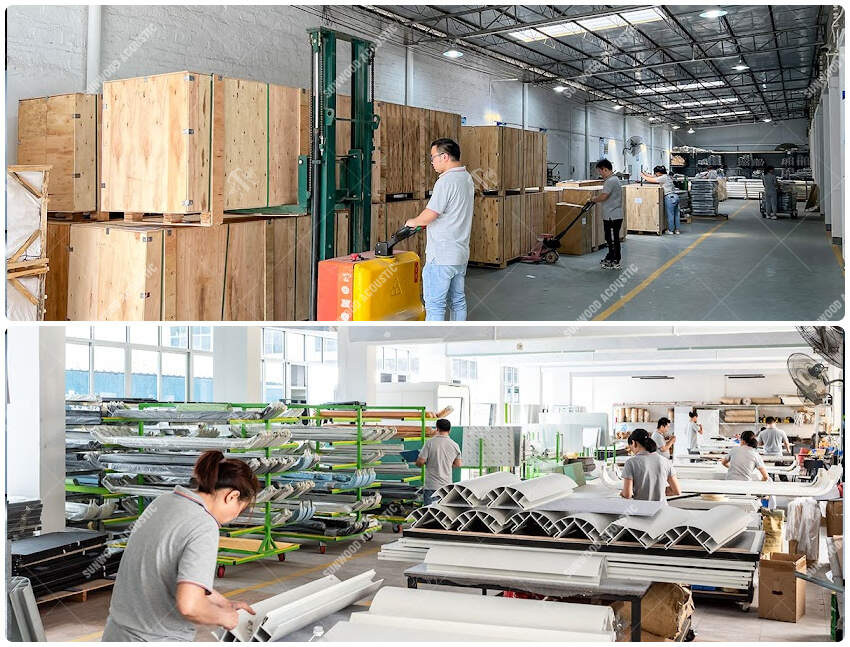 Delivery: What is the delivery term?
Our standard price is based on EXW term, we can do other terms like FOB, CIF and DDP etc. Please feel free to inform us your requirement on the delivery.
MOQ: Do you have any MOQ limit for the order?
We don't require any MOQ for ordering as well as the customized request, but price will be based on the order qty. If you wish to DIY your own, please inform us your requirements, we will suggest the suitable solution accordingly, and check for the feasibility.
Installation: How to install the Acoustic Pod?
The shipment comes with all the necessary tools for assembly; no special tools or specialists are required. We have an instruction manual and
videos from YouTube showing step-by-step instructions. The installation usually takes about 2 hours.
Warranty: What is your warranty policy?
Our warranty term details please refer to the last page of our
product catalogue.
Payment: What is your terms of payment?
If the order quantity is small, can transfer the full payment for the fast delivery. And when the total amount is large, we can also accept partial deposit for production and remaining balance before shipping.