PRODUCT DESCRIPTION
1. Perforated acoustic panel is a kind of resonance absorption material with holes through on the quality MDF board.

2. It has strong selection on the sound spectrum and particular great performance on the middle and low frequency.

3. If filled with the acoustic cotton at the back side space of the acoustic panel, it has better performance on the middle and high frequency.

4. The holes diameter and pitch can be custom made.

5. Strong impact resistance, excellent decorate performance, elegant color, especially work for wooden construction.

1. Finish Layer 2. 16-16-6 Perforated Layer3. Acoustic black fleece

4. Acoustic Blanket Structure (to be fabricated on site)
Perforated Pattern
Perforated acoustic panel has 2 type of perforation:
Straight through perforation & Big-Small perforation
The perforation has 2 kinds of arrangement:
E = Straight Row & V = Diagonal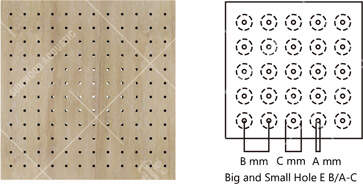 Product Characteristics
Standard perforated sound-absorbing panels are rigid walls with perforated surfaces. Due to its amazing absorption capacity, it provides excellent acoustic performance in a range of applications. This panel system is very suitable for recording studios, offices, schools, stores and performance venues. Our standard perforated sound-absorbing panels have perforations that provide color and sound absorption. This cost-effective and flexible solution is the perfect choice for all types of commercial or residential projects.
1. Properties
Standard perforated sound-absorbing panels are an economical solution for sound absorption and diffusion, providing sound-absorbing colors that can be configured in a variety of environments. There are two options for standard perforated sound-absorbing panels: elastic materials and high-density materials. Excellent impact absorption, moderate high frequency absorption and good durability.
2. Advantages
Standard perforated sound-absorbing board, durable cloth, with sound-absorbing characteristics, can reduce noise. The durable PVC central backplane provides additional protection, strength and durability. Designed for indoor and outdoor applications, sound absorption is required to control noise in industrial environments or where polished surfaces are required.
3. Working principle
The sound absorption board absorbs sound and most of the indoor sound energy. They not only help to establish privacy between rooms, but also help to reduce unnecessary noise. Standard perforated sound-absorbing panels can reduce ambient noise and absorb reverberation energy. It includes an excellent damping system that provides excellent sound absorption, reduces noise levels by absorbing unnecessary traffic noise, and creates a more comfortable environment in your home or office. Sound absorbing board is a simple, effective and economical method, which can eliminate unnecessary noise and create a more productive and comfortable space. Perforated sound-absorbing panels provide excellent sound-absorbing effect with soft cloth surface, covering walls, ceilings or other surfaces. They are also known as sound absorbing plates or drum faces. The standard perforated sound-absorbing panel is a kind of lightweight rigid panel, which can improve the acoustic performance by controlling reverberation and diffusion. This translucent gray, two ounce fabric has an attractive smooth surface on one side and a perforated design on the other, adding style to your room decoration. There are 1/2 inch holes in the panel to increase visibility and air circulation.
4. Installable parts
The standard perforated sound-absorbing board is light in weight and low in cost. They can be mounted on walls, ceilings, or floors to reduce reverberation in studios, theatres, and other places where people gather. Standard perforated sound-absorbing panels are specially designed for sound absorption in recording rooms, offices, auditoriums and classrooms. It provides durability and excellent opacity for sound-absorbing windows or walls, and can be well used for ceiling treatment. The standard perforated sound-absorbing board is a kind of sound-absorbing wall and ceiling. They are often used to reduce noise in offices, gymnasiums, laboratories and other environments. The design of standard perforated sound-absorbing panels can meet the requirements of many different architectural applications. The perforations in these panels provide excellent acoustic performance without compromising aesthetics, while the rigid aluminum frame provides durable support, making it easy to install on walls, ceilings or partitions.
CORE MATERIALS
In order to satisfied with the different kinds of requirements from the project, we have wide ranges of core materials for the product to meet the requirements, followings are the details of each type of materials and their specifications, also the following table shows the available finish to each type of material and the maximum standard they can reach.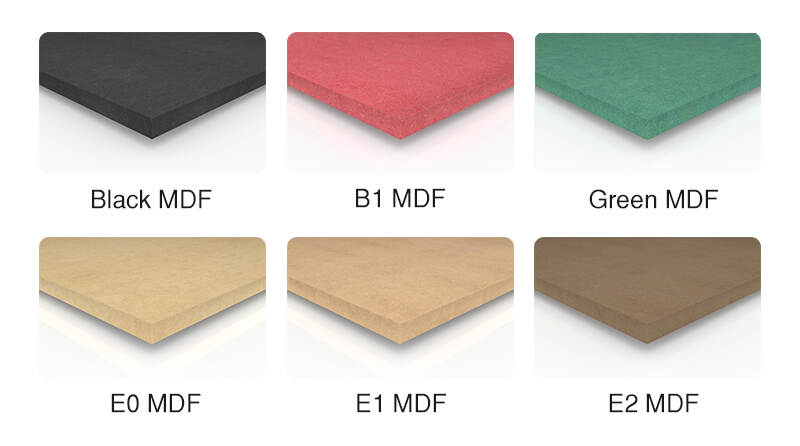 TEST REPORT
ACOUSTIC ABSORPTION COEFFICIENT TEST REPORT ↓
ENVIRONMENTAL FRIENDLY TEST REPORT ↓
INSTALLATION METHOD
PRODUCT DATA SHEET WITH INSTALLATION INSTRUCTION ↓

FAQ
Q1: What about the lead time?
Small quantity under 500m2 will require about 5~7 days, large quantity over 1000m2 will require about 2~3 weeks, special requirement please inform us, we will calculate for you.
Q2: Do you have any MOQ limit for acoustic panel order?
We produce based on the order requirements, no MOQ required.
Q3: Are you a trading company or a factory?
We produce customzed wooden acoustic panel, operable wall and silent pod only, others are trading, the important things is if we could provide you the same competitive price, quality and good service.
Q4: Sample policy
Free of charge for sample and courier: Only when specific product and project details are available, and drawings that we can analyse for the customized product, free of change for the first time, A4 size sample.
Free of charge for sample: No specific product and project in hands, only interested in having physical samples in hands, we can provide standard sample free of charge, customer should bear the freight cost, customized product will charge extra as well.
CONTACT US
SEND INQUIRY AND REQUEST FOR MORE PRODUCT DETAILS! →