PRODUCT DESCRIPTION
WoodV-groove panel is an acoustical panel with various finish choices. The sound absorption performance is provided by a unique double cross v-groove structure in combination with different density acoustical core.

Although the percentage of open area of V-groove panel is only approximately 4%, the v-grooves create a four sided "funnel" effect that allows sound to arrive at a variety of angles thereby focusing the transfer of energy over a broader surface area of absorption material.

1. V-Grooved layer 2. Acoustical core3. Acoustic black fleece 4. Perforated layer5. Supporting frame
Product Characteristics
V-groove sound-absorbing board is a kind of sound barrier, which can reduce the surrounding noise and provide a fashionable appearance for your home. It consists of an interlocking system, and its size can be customized according to your needs. The unique design of the panel can also be placed at any angle, so that you can create a custom wall completely suitable for your space.
1. Working principle
This soundproof panel is designed to reduce the amount of reverberation in the space while ensuring maximum sound absorption. This is achieved through its unique groove design. In addition, the sound-absorbing panel has a rigid structure, which makes it very suitable for high flow areas such as offices and retail stores. The V-groove sound-absorbing board is designed to reduce the indoor medium frequency and high frequency levels. Its acoustic properties also help soften room reverberation and make language clear. Snap fit assembly does not require nails or screws, so it can be easily moved in a room or office. V-groove sound-absorbing board can reduce noise and increase language privacy by reducing the transmission of sound from one room to another. The foam core provides high-frequency sound absorption, while the poplar frame and V-groove edges provide a pleasant appearance. The use of mineral wool insulation keeps the panel light and easy to install on most surfaces.
2. Customizable
The V-groove soundproof panel provides patterns of different densities and thicknesses, and is available in various sizes to suit your project. These durable acoustic panels are impact resistant and easy to install. They can be used as part of a large sound insulation solution or individually to reduce ambient noise in specific areas. V-groove soundproof panel is an ideal solution to suppress high-level background noise in theatres, conference rooms, auditoriums and other entertainment places. They can also be used to build a wall between different areas of your space.
3. Advantages
This V-groove sound absorption panel helps absorb sound from a variety of sources, including audio components and home theater systems. It has a black surface to match other decorations, and an attractive grille will hide most speakers or stand-alone devices.
4. The V-shaped slot sound-absorbing board is a simple and economical supplement to your practice room. When placed on the wall, these panels can absorb sound waves from the drill, ensuring that you have a quiet place to practice. If installed correctly, they can also act as a barrier between your voice and your neighbors, so that you can enjoy learning without worrying about being woken up by noise.
5. Easy to install
Our V-groove sound-absorbing board can add a sense of beauty to any room in your home. They not only have the function of sound insulation, but also have attractive wooden frames, which are suitable for any interior design aesthetics. High density solid design and 100% recycled materials provide all the advantages of traditional acoustics, but they are lighter and easier to install. They are the perfect choice for large spaces such as bathrooms and kitchens.
CORE MATERIALS
In order to satisfied with the different kinds of requirements from the project, we have wide ranges of core materials for the product to meet the requirements, followings are the details of each type of materials and their specifications, also the following table shows the available finish to each type of material and the maximum standard they can reach.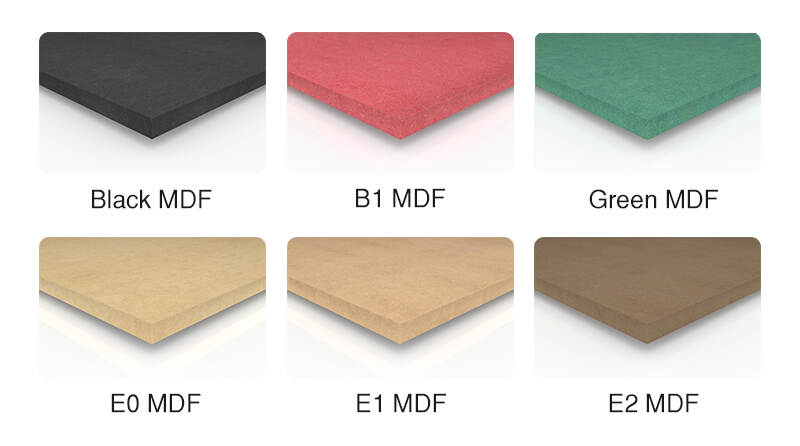 TEST REPORT
ACOUSTIC ABSORPTION COEFFICIENT TEST REPORT ↓
ENVIRONMENTAL FRIENDLY TEST REPORT ↓
INSTALLATION METHOD
PRODUCT DATA SHEET WITH INSTALLATION INSTRUCTION ↓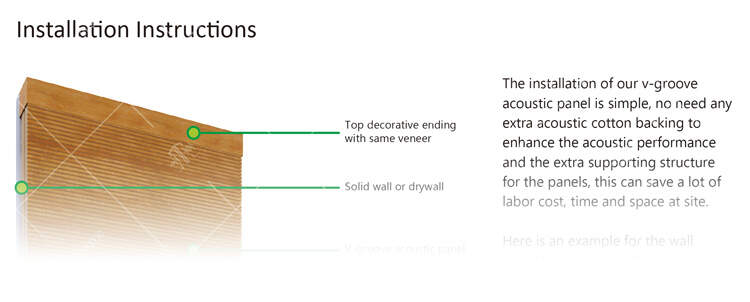 FAQ
Q1: What about the lead time?
Small quantity under 500m2 will require about 5~7 days, large quantity over 1000m2 will require about 2~3 weeks, special requirement please inform us, we will calculate for you.
Q2: Do you have any MOQ limit for acoustic panel order?
We produce based on the order requirements, no MOQ required.
Q3: Are you a trading company or a factory?
We produce customzed wooden acoustic panel, operable wall and silent pod only, others are trading, the important things is if we could provide you the same competitive price, quality and good service.
Q4: Sample policy
Free of charge for sample and courier: Only when specific product and project details are available, and drawings that we can analyse for the customized product, free of change for the first time, A4 size sample.
Free of charge for sample: No specific product and project in hands, only interested in having physical samples in hands, we can provide standard sample free of charge, customer should bear the freight cost, customized product will charge extra as well.
CONTACT US
SEND INQUIRY AND REQUEST FOR MORE PRODUCT DETAILS! →