PRODUCT DESCRIPTION
The wooden grooved acoustic panel is the cost effective, traditional and classic acoustic product since very long time ago. This product can be used in all areas like ceiling, wall also cabinet door and is basically an all-rounder. The perforation and grooves on the products are the ideal solution for the standard absorption requirements.

1. Grooved Layer 2. Perforated Layer3. Acoustic black fleece

4. Acoustic Blanket Structure (to be fabricated on site)

A - Strip width
B - Slot width
C - Strip & Slot width
D - Thickness
Product Model: A/B
Standard Models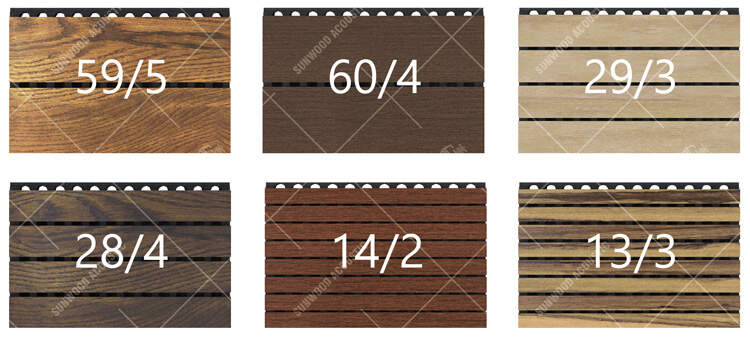 Special Models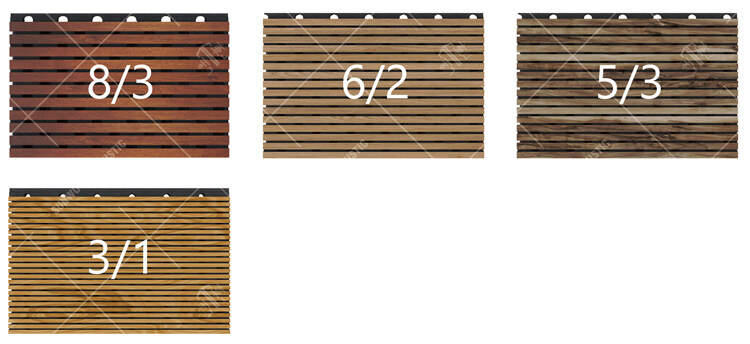 Product Characteristics
The standard slot type sound-absorbing board is an excellent choice for any enterprise that wants to increase sound absorption and reduce reverberation. Its unique groove design adds visual appeal and adds interest to the current environment. The standard slotted sound-absorbing board is a cost-effective method to reduce the sound of various spaces (including recording rooms and gymnasiums). This panel is made of 1/2 inch thick wood nails, and the surface is coated with a durable resin coating, which can be painted in a color that matches the color of your wall. It is easy to install. Rigid or feathery edge supports can be used, but it should be noted that it can only work in the horizontal direction and may not be suitable for high walls.
1. Advantage
If you are looking for a product with reasonable price and excellent sound absorption effect, then this is your product. This kind of sound absorption board will improve the acoustic effect of the room, making it an ideal supplement to any home theater or recording studio.
2. Working principle
Sound absorbing plate is an effective sound absorber, which can reduce the noise level in the environment. Its grooved front surface provides a fingerprint proof surface and helps protect against dust, dander and other airborne contaminants. This kind of sound-absorbing board can be used in many places that need sound-absorbing, such as offices and restaurants. This standard groove sound-absorbing board provides a low-cost sound-absorbing method. Each board has a channel (or groove) that can transmit sound waves and spread them evenly throughout the room. The standard groove pattern is usually used as an intermediate choice between vertical and horizontal sound absorbers because it provides both front and side sound absorption, but not both. This ensures that your system works best.
3. Usage scenarios
The standard grooved sound-absorbing board has high quality and good sound-absorbing effect. It is recommended for fall prevention and environmental noise control in factories, workshops, warehouses and industrial applications. The board is easy to install and can be simply nailed or screwed on the wall. It is non reflective and durable.
4. Standard slotted sound-absorbing board is the perfect solution for noise control and compliance in open space. Provide 3 dB absorption as low as 500 Hz to effectively reduce rafter and ceiling vibration, machine roar and general background noise while maintaining a professional appearance. This product can be used alone or together with our other standard trough plates to form an effective sound barrier in the case of limited space
5. Sound absorbing board is an economic method to control sound. It has a wide range of applications, from assembly line to classroom, from office to gymnasium, etc. These panels can be used wherever noise reduction is required, without the use of expensive sound insulation materials (such as foam or fiberglass). Sound absorbing panels also help prevent damage caused by moisture, dust, dirt and other particles that may corrode the machine and equipment.
CORE MATERIALS
In order to satisfied with the different kinds of requirements from the project, we have wide ranges of core materials for the product to meet the requirements, followings are the details of each type of materials and their specifications, also the following table shows the available finish to each type of material and the maximum standard they can reach.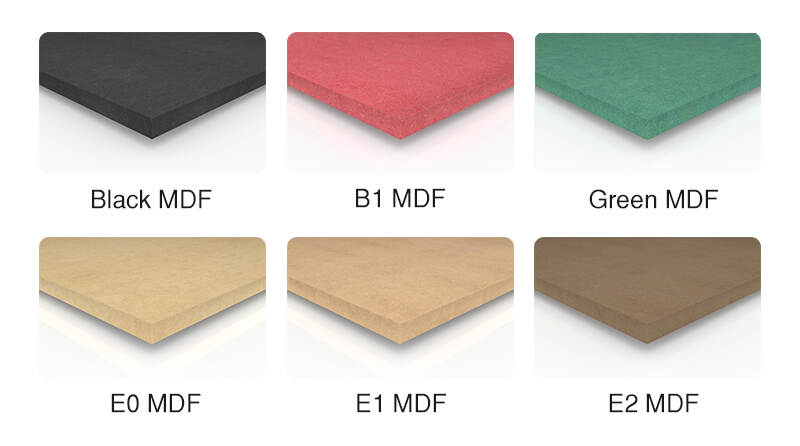 TEST REPORT
ACOUSTIC ABSORPTION COEFFICIENT TEST REPORT ↓
ENVIRONMENTAL FRIENDLY TEST REPORT ↓
INSTALLATION METHOD
PRODUCT DATA SHEET WITH INSTALLATION INSTRUCTION ↓

FAQ
Q1: What about the lead time?
Small quantity under 500m2 will require about 5~7 days, large quantity over 1000m2 will require about 2~3 weeks, special requirement please inform us, we will calculate for you.
Q2: Do you have any MOQ limit for acoustic panel order?
We produce based on the order requirements, no MOQ required.
Q3: Are you a trading company or a factory?
We produce customzed wooden acoustic panel, operable wall and silent pod only, others are trading, the important things is if we could provide you the same competitive price, quality and good service.
Q4: Sample policy
Free of charge for sample and courier: Only when specific product and project details are available, and drawings that we can analyse for the customized product, free of change for the first time, A4 size sample.
Free of charge for sample: No specific product and project in hands, only interested in having physical samples in hands, we can provide standard sample free of charge, customer should bear the freight cost, customized product will charge extra as well.
CONTACT US
SEND INQUIRY AND REQUEST FOR MORE PRODUCT DETAILS! →